First, check out this awesome Intel commercial:
Fun, but what I really like about it is the attention to detail, like how instead of just having windows fly around, they often actually show a mouse cursor dragging them, or dragging scroll bars. But the best parts are the text! For instance, just before the ASCII art starts, you can actually read it if you watch it in HD. I've taken a screenshot. Click below to enlarge (and you might have to click again to get your browser to zoom in):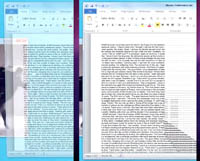 It's the protagonist's debriefing! Since it's kind of hard to read, even in 1080p, I've transcribed it at the bottom of this post. I particularly like all the overt plugging of the "Intel® Core™ i5". :)
The other interesting bit was how, in the elevator scene, the elevator is actually blog of the old lady in the elevator! Again, click to expand the blog post screenshots: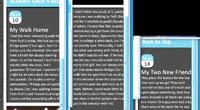 Pretty legible, so I won't bother with a transcript. And in fact, this time, when I searched for some of the text from it, I found the actual fake blog! Slightly different formatting, though.
Now that, in turn, led me to discover a page telling me I've found Easter egg #7 out of 9! Sweet! So that's a bit of a spoiler, but other than that, I've been able to find three other Easter eggs pages so far. Having trouble finding more, though.
I'll point out spoilers on the other Easter eggs I've found in the comments below.
And here's my transcript of the debriefing. I cleaned up the junk characters, but note that some of the text on both sides are chopped off:
case I have the envelope. 'Half' because I know they aren't far behind. My fingers find the skeleton
at I will soon have some unwelcome vistors. They're closer than I thought. I slip into the first room I
or behind me. I survey the room quickly. It's empty. Good. I remove my blonde wig and clutch the
n't. Footsteps bellow down the hallway and shadows replace the light under the door. Suddenly, my
brace myself for what's to come — like an Intel® Core™ i5 processor, ready for anything. A weird
shakes the door. Then another. I know it won't be long now. My adrenaline spools up like a turbo in
cracking and splintering into a thousand broken pieces. A flash of black shoots through the door and
meeting his outstretched arms with my own. I turn my body and use his own momentum to take us
ce off my skin like confetti of letters and numbers. Glancing down, I see that the once confident,
h street level — a car softening his landing, him softening mine. The moment we hit car, I hear
uch as nanosecond, like a computer processor with extra reserves of power. And there it is again,
break into a dead sprint and leap onto the moving tram. Two guys follow, trying desperately to take
ve from the tram, dropping into a ninja roll, just outside a lovely little women's boutique. I'll lose them
sion and a pair of combat boots that do. Emerging from the store a new woman, I walk right past
my trail, I cut down a small alley and into an open doorway. I sprint up a winding staircase without a
h the top of the stairs and it looks like I'm trapped. Nowhere to go. That's when my phone vibrates.
ed by a little smiley face. That's when I see the ladder. I double time it to the roof, but my escape is
. Again, I feel a weird sensation — a sense of calm and seamlessness. I feel unstoppable. I place a
today. I run to the edge of the roof and once again find myself plummeting through the air. This time
ed water. Before I have a chance to pretend to be sorry, my friends show up. This time there's more
follow in a black SUV. We tear through the tight streets of Prague, tires screeching on the centuries
ll onto a straight stretch of empty road and back off the throttle ever so slightly. They think they have
oor. Once again, I feel a surge of power not unlike the performance you get when you have a laptop
past the trucks with inches to spare. The SUV isn't so lucky. The giant explosion behind me sends
fore. I get out to inspect the damage when I see them. The driver and passenger have only a few
ain "trapped". The quotations explain themselves when I pull out the decoy envelope. If I can't lose
n drops to a passing trash barge. Perfect. The two men go after it, diving off the bridge into a sea of
Czech sunset. There is a moment of silence as the Intelligence Officer debriefing Eva takes in the
sponse to her tacky choice of words. That's when it hits her. She feels like she's been here before.
n sure it's nothing." "You've done well, Eva. Now if you wouldn't mind, can you please repeat your
ack audio device and flips a switch. "Starting with when you left the elevator." Eva carelessly shrugs
ay, a half-smile on my face. 'Half' because I have the envelope. 'Half' because I know they aren't
rude announcement, letting me know that I will soon have some unwelcome visitors. They're closer
on't stop to think why. Slamming the door behind me, I survey the room quickly. It's empty. Good. I
er saw me enter the room or they didn't. Footsteps bellow down the hallway and shadow replace
handle. They saw me. I step back and brace myself for what's to come — like an Intel® Core™ i5
e to stop and figure it out. A large thud shakes the door. Then another. I know it won't be long now
ud is replaced by the sound of wood cracking and splintering into a thousand broken pieces. A flash
my right foot, while simultaneously meeting his outstretched arms with my own. I turn my body and
feel small shards of glass bounce off my skin like confetti of letters and numbers. Glancing down, I
Before I know it, we reach street level — a car softening his landing, him softening mine. The moment
eet, not wasting so much as a nanosecond, like a computer processor with extra reserves of power
now I have my exit. I break into a dead sprint and leap onto the moving tram. Two guys follow, trying
half-smile and dive from the tram, dropping into a ninja roll, just outside a lovely little women's
't really suit the occasion and a pair of combat boots that do. Emerging from the store a new woman
m back on my trail, I cut down a small alley and into open doorway. I sprint up a winding staircase
lift, I reach the top of the stairs and it looks like I'm trapped. Nowhere to go. That's when my phone
n?" followed by a smiley face. That's when I see the ladder. I double time it to the roof, but my