A while back, when Flickr introduced support for videos up to 90 seconds long, they chose to call them long photos. More recently, I've been fascinated by the tumblr blog If we don't, remember me, which features looping animated gifs made from movies, "long stills", if you will. On my recent trip to Monterey, I explored the long photo in several different forms:
First, I was fascinated by the common murre, which looks like a duck on the surface, but transforms into the Batjet when underwater:
It was hard to get a good picture of them, because they moved so quickly, but a collage gives you a better sense of their movement than any individual photo.
Next, we saw a man dive into the Bay from a rock:
I took photos of the entire dive in continuous mode. I originally wanted to make an animated GIF, but I decided that compositing them together was more interesting.
Speaking of animated GIFs, I did end up making one, but of a swell shark egg case. Look at that embryo boogie!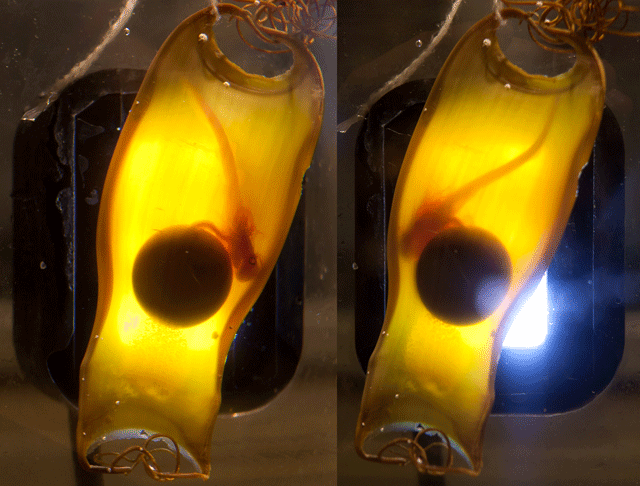 I was lucky to find just the right set of frames from both sets of photos that they looped just right together. :)
Finally, I shot a continuous series of 2-second exposures of waves washing over some rocks (best viewed full screen in 720p HD):
I recorded the audio separately and then synced the images up to it. The funny thing is that I originally called this a "time-lapse" video, since it's a series of still images, but in fact it's more or less real-time, so it's not technically a time-lapse. :)
These are attempts to combine multiple still photographs to convey a sense of time or motion. What other methods are there?