A couple of nights ago, I dreamed I was playing the classic Williams Electronics arcade game Joust. You're a knight, riding a flying ostrich, and you try have to defeat enemy knights riding on buzzards. It may be hard to believe, but this is an actual game; I did NOT dream that part up.
In case you've never played it, here's a screenshot: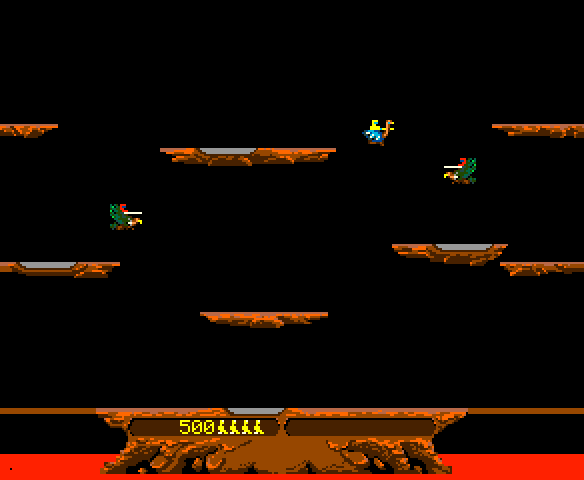 That's what the game normally looks like, in real life.
But my dream started to alter it a bit...
First, a giant UFO appeared in the sky!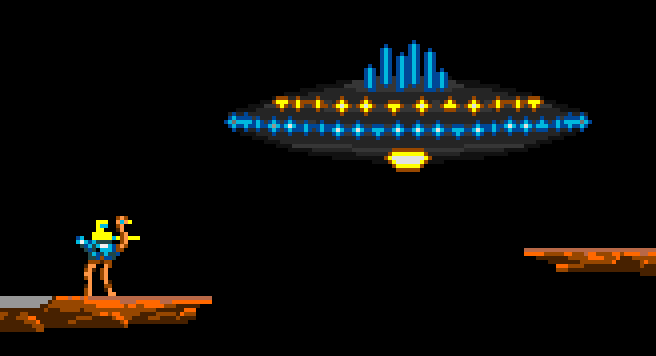 How was I supposed to beat a UFO?!
Luckily, my tiny ostrich turned into a giant fantastical bird!
Just then, the UFO began firing laser beams at me, and I lamented that the size of my new bird meant it was actually harder to dodge the beams. :\
But before I could get shot, I woke up.
* * *
(The UFO and bird were higher resolution in my dream, but I thought it'd be more fun to draw them as pixel art! The UFO is simplified a bit—I dreamt something more like the Close Encounters mothership—but the bird came out looking pretty much exactly like what I dreamt.)