You are a middle-aged Korean woman, on a group tour from Seoul to San Francisco, in an aisle seat on a United Airlines 747. Beside you is your friend, and in the window seat is a scrawny Chinese guy. You speak very little English and no Chinese, while he speaks no Korean, so you just smile and nod to greet each other and then go about your own business.
It's a few hours into your flight. You've already had your in-flight meal (pleasantly surprised to find that they even served some gochujang), the lights are out, and you're trying to get some sleep. Your friend beside you is doing the same, resting on her neck pillow.
Suddenly, you feel your chair creak. Something brushes past you. You open your eyes, and a dark mass moves past you, inches away from your face! You scream. You scream louder than you've ever screamed.
"AAAAAAAAAAA!!!!!!"
You look around, frantically.
"AAAAAAAAAAAAAAAA!!!!!!!!!!!"
You throw your arms up.
"AAAAAAAAAAAAAAAAAAAAAA!!!!!!!!!!!!!!"
...
Finally, you calm down, and you see the Chinese guy picking himself up in the aisle. He says something to you in English and rushes off in the direction of the restroom. Your friend comforts you and tells you it's okay. You start to get a better sense of what just happened.
When the Chinese guy returns from the restroom to get back to his seat, you smile and nod. You stutter out a "Sorry," in English. He says "sorry" back.
As your heart rate slows, you finally try to get back to sleep.
* * *
Toward the end of the flight, the Chinese guy hands you a sketch on a notepad: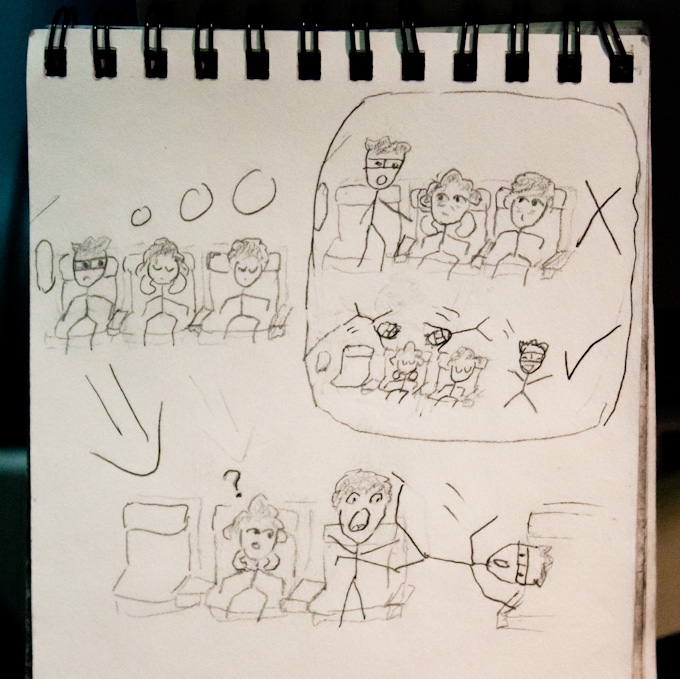 You all smile at each other in understanding. The Chinese guy takes a photo of his notepad for himself and then tears the sheet off and gives it to you. You had a bit of a fright, but at least you have a story to tell your friends and family back home, all before you've even arrived in America!