I recently brought Paolo Bacigalupi's Nebula Award-winning science fiction novel The Windup Girl to read on vacation in Hawaii and China. On the first page, the author describes a fruit:
Anderson turns the fruit in his hand, studying it. It's more like a gaudy sea anemone or a furry puffer fish than a fruit. Coarse green tendrils protrude from all sides, tickling his palm. The skin has the rust-red tinge of blister rust, but when he sniffs he doesn't get any stink of decay. It seems perfectly healthy, despite its appearance.
And on the second page:
He mimes that he would like to taste and the peasant woman takes back the fruit. Her brown thumb easily tears away the hairy rind, revealing a pale core. Translucent and veinous, it resembles nothing so much as the pickled onions served in martinis at research clubs in Des Moines.
I hadn't heard of any fruit like this. They sounded like lychees, but lychees don't have "tendrils", so I assumed it was fictional. But then, the very next day after reading those pages, I saw these in person: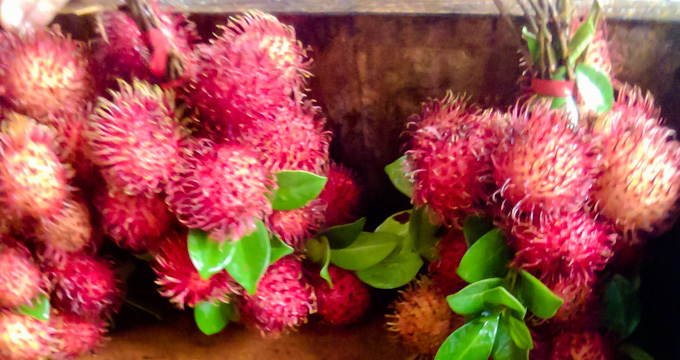 They're real! I had just never seen them before! These must be what the author was talking about! In the novel's future, they hadn't existed in the wild for decades, wiped out by man-made, cross-species diseases that killed countless people by contaminating their food supplies.
* * *
While on a plane to a destination wedding to Hawaii, I read this novel that depicts a world made bigger again by peak carbon, where coastal cities have been smothered by climate change, and where air travel is no longer possible except by blimp.
While being driven around by upper-middle-class friends and relatives in China, where private car ownership has soared in the last decade, I read about a future where cars are flamboyant toys of the richest, and bicycle rickshaws once again rule the land.
While dining on starfruit, dragonfruit, and durian in Guangzhou, I read about a future where the only fruits left are genetically-engineered varieties made by the same companies who had sabotaged the natural ones.
Robin Sloan wrote a post this same book over at Snarkmarket; he titled it: Michael Pollan meets William Gibson. And he started his post with the same point I've made when explaining this book to people: Science fiction is always about the present. Golden Age science fiction from the 40s and 50s were about dreams of rocket-fueled futures. In the 70s and 80s, it was about nuclear holocaust and computers. And in the last decade, it's been about genetic engineering. This book also talks about peak oil, climate change, and, as Robin points out, food. These are the concerns of today.
* * *
Have you ever had a rambutan? They look like spiky lychees and taste a lot like them, too. Pretty good. Try one while you still can.