Six months ago, I tried out Track Your Happiness, a project created by a Harvard Ph.D. student working for the professor who wrote Stumbling on Happiness.
Three times a day (adjustable), the website texts you with a link that you visit on your smart phone to immediately fill out a survey indicating how happy you are, and answering a few other questions. At the end of three weeks, it correlates the results.
Some of it feels too personal to share with a wide audience, but here's one result that took me entirely by surprise: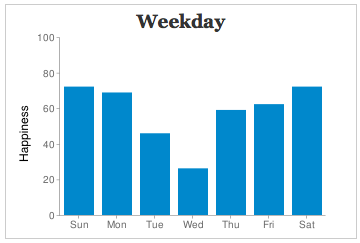 Apparently, I am miserable on Wednesdays. I had no idea I was miserable on Wednesdays, but the pattern is so clear! It's natural to be happy on weekends, but I felt the week was more even. But that's not what the numbers say.
I suppose this validates the core idea in Stumbling on Happiness, which was that we are very bad at judging what really makes us happy.