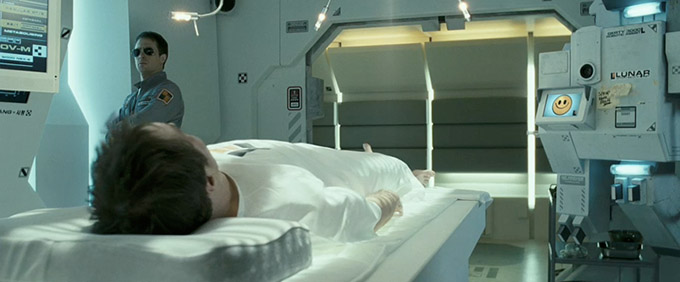 If, like me, you like hard science fiction but find it somewhat rare in the theaters, you should go check out Moon while it's still playing. Sam Rockwell plays a technician on a lunar helium-3 mining station who's there to help out the mostly automated station. He's nearing the end of his three-year contract, and his only company is Gerty, the HAL-esque resident robot. He's lonely, and things start getting a bit confusing for him...
The trailer is a bit spoilerful, so if I've already convinced you to see this movie, you should skip it. But if you insist, here it is. The trailer actually gave me somewhat false expectations for the movie, actually. I thought it would be more like Solaris, a trippy psychological thriller of some kind, but it was actually rather rational and cerebral. Hm. Well, that's not quite true. It is psychological, but Sam Rockwell just does a wonderful job of portraying his mental state the old-fashioned way, through acting, without the need for excessive bizarre camera angles and slow motion. Moon maintains a believable setting and a hard science fiction feel, very much in the vein of Sunshine, but without the ridiculous ending. Come to think of it, that's probably why I liked it so much: I expected it to start sane and end up craaaaaazy; instead, it starts out a little crazy but ends up logical. I appreciate that in my science fiction. :)
There's another reason I liked this movie: They totally stole my idea of a robot using an emoticon as a face! Check out this post of mine from 2004 on this very blog. Here's my sketch: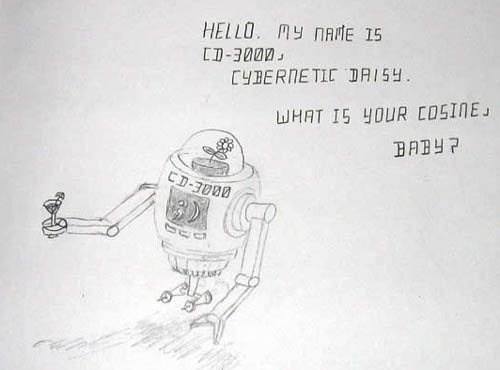 Now take a look at the robot on the right from the screenshot above. :) I really liked the robot, but again, I can't say too much about him without giving things away. Let's just say it's an inventing twist on a familiar trope.
Okay, enough blabbing. If you're a fan of "real" science fiction, go see this movie! (Or, if you're a Sam Rockwell fan, go see it, too! And finally, if you like him in this, you should also check out Confessions of a Dangerous Mind, because he's on-screen 90% of the time in that, too.)
Oh, and did I mention Moon is the directorial debut of David Bowie's son?(!)