My first attempt at a band promo photo, and also my first attempt at a posed photo using off-camera flash; click to view it larger: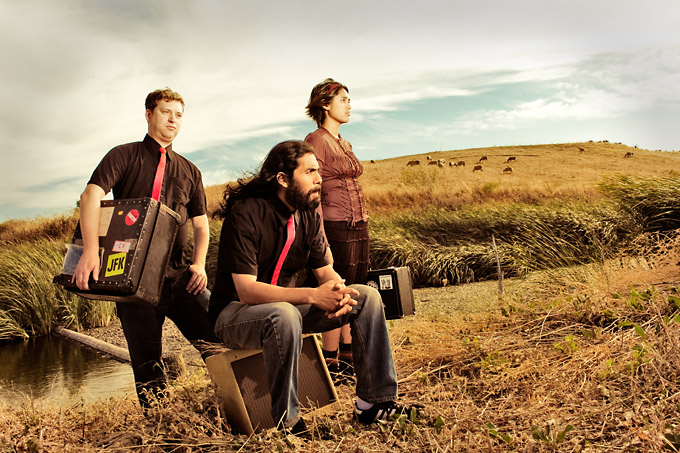 Thanks to Praveen for holding the flash for me (at camera right). That's what gives their faces that painterly feel. Also, the sheep had actually wandered off by the time I shot this, so I had to photoshop them in from a previous test shot. :P
Here's a Reservoir Dogs style shot:
And here's another shot that I used off-camera flash on, this time holding the flash in my left hand while shooting with my right; click to view larger:
I like the first one the best. Must be the sheep. :)
Here's the full set from the shoot, and here's The Bad Beginning's MySpace page.
* * *
A few days earlier, I went to their show at the Retox Lounge, where a bunch of their friends played, too. Here is Prof. René Lysoff playing spacey electronic music:
I tried to give it that new Star Trek lens flare look. (That bright light at the bottom right is my flash.)
I liked how these shots of Husni (guitarist for Orkes Pantai Barat) and DJ Chris Beale turned out:
And of course, a couple of shots of The Bad Beginning:
Here's the full set from Retox Lounge.
* * *
A couple of weeks earlier, I saw my high school friend Miles perform as they toured in San Francisco. He drummed for Mouse Kills Tiger [MySpace]:
Here's Mouse Kills Tiger's lead singer Jens:
And a spectator watching them:
Jens also drummed for another band, My Imaginary Friends [MySpace]. Their lead singer, Erin, has a great voice:
I feel like this picture looks like something out of an old time musician's biopic or something:
:) Another spectator shot. I like the colors:
Here's the full set from Mouse Kills Tiger and My Imaginary Friends.
* * *
At Miles' show, I met a friend of his, Alice Tong [MySpace]. She performed later that week at a condo complex in Oakland that's doing events like this as promotions:
I like this shot of her cellist:
Next up were Michelle Jasso, an opera singer, and dj fflood, calling themselves The Diva and the DJ:
Their music was inspired by the blue alien diva scene from The Fifth Element [YouTube]! Jasso doesn't have a public page yet, but here's fflood's MySpace page.
And finally, here's the full set from Golden Bridge Lofts in Oakland.