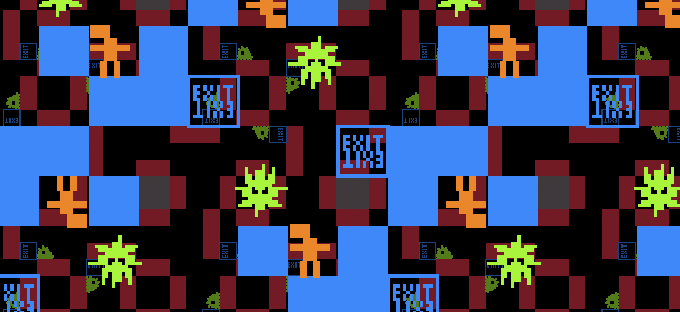 If you have any interest in puzzle/platform games like Lode Runner, do yourself a favor, go to runhello.com, and download Jumpman. It's made by just some guy, and it's free. There are both Windows and Mac versions. (The Windows version reportedly works fine in WINE on Linux.) The graphics and sound may remind you of the Atari 2600, but it has a modern physics engine underneath, and the game dynamics remind me of a lot of more modern games.
You can run around and jump, but the twist is that you can usually also rotate the level, thus changing the direction of gravity. A few of the levels can require a frustrating level of dexterity, but most just require a little thinking.
My favorite gimmick, though, is the tessellation. You're probably familiar with the way a lot of old school video games wrap around when you get to the sides of the screen. Here, the wrapping isn't always in the same direction! When you read the side of the screen, you might read an upside-down, sideways, or mirrored version of the level! Some levels make use of this for gameplay, but others, like the one pictured above, use it mostly for artistic effect. I think that's what ultimately made me love this game. These tessellated levels just look so trippy.
The game is far from polished, but it's a great demo of many recent ideas in platforming. Aspects of it remind me of Flash games like the Shift series or Sola Rola. The wacky wrapping parts remind me a bit of Portal. Some people hesitant to download it just because it requires a download. I'm rather confused. Isn't that how we played all games back in the day? And it plays so much more smoothly and beautifully fullscreen than in a tiny laggy Flash widget! Go download and play it already!
Finally, it has a pretty nice level editor. I haven't made any particularly deep puzzles with it, but I did make a few levels that might look familiar...

After you get a chance to play through the game to get a feel for the various mechanics, download my jumppac.jmp.zip [9 KB ZIP File], unzip it, and put the jumppac.jmp folder inside the Jumpman folder alongside the game. Then you can just select Editor => jumppac => Play to play it.
Check out the game, and then check out my levels! :)