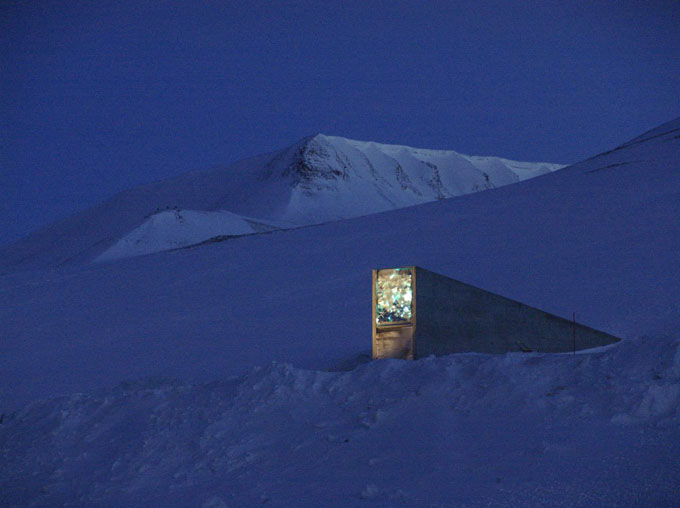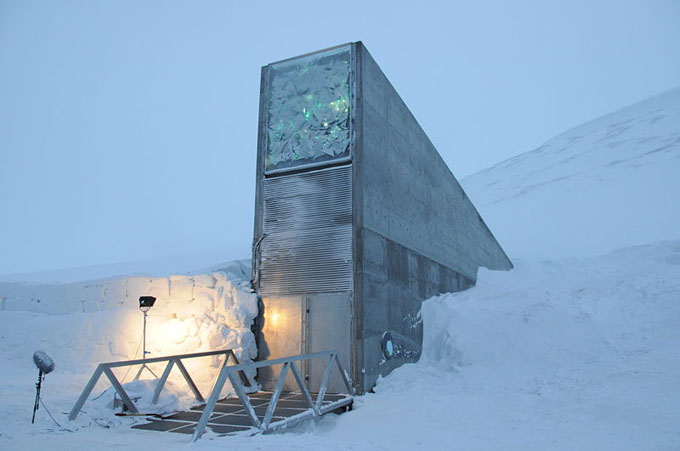 (Photos: Mari Tefre/Svalbard Global Seed Vault)
This is the entrance to the Svalbard Global Seed Vault. Here's an old Wired article about it.
This is the world's ultimate backup food source. If the crops of the world are devastated, and all the other seed vaults also fall prey to natural or man-made disasters, we can come here and find a few million varieties of seeds we can use to start feeding the world again. This vault was placed on a remote Norwegian island because it's naturally cold, has low tectonic activity, and isn't likely to be the center of social strife.
I can totally see social strife coming to this place in the event that we actually need to use it, though. I imagine a post-apocalyptic movie in which the characters finally arrive here at the end and see this doorway as a gateway to hope for the couple billion human survivors left in the world. They've arrived after surmounting insurmountable obstacles, mostly consisting of biker gangs, of course. :P
(via Kitsune Noir via Blackbeltjones. (Interesting: It's not actually on Blackbeltjones' blog; rather, his RSS feed, where I got this link, includes his del.icio.us links.))
Update: I found the original source of these photos, where there are a few more shots. I added one above.