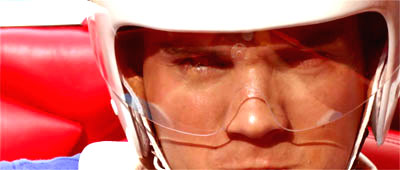 [ IMDb Entry ] [ Trailers ]
Speed Racer leaves any semblance of reality in the dust and never looks back. I didn't have any problems with suspension of disbelief while I watched it because there was nothing to believe in the first place. It was just completely insane. People sometimes complain about CG in movies looking too fake, including in the Matrix sequels, but here the Wachowskis have embraced the fakeness and made you not even think about it.
I also liked the editing, which involved nearly non-stop gimmicky sweeps, cars flying across the screen to reveal another scene, that sort of thing. A trailer for The Incredible Hulk preceded the movie, and that reminded me of the comic book editing in Ang Lee's Hulk. Here, they took it to an extreme, so the whole thing felt like the spirit of a comic book directly transposed onto the screen... except shinier and more brightly colored. Excuse me. Except SHINIER and more BRIGHTLY COLORED! That's better. :)
The plot was sort of a standard sweet families good/corporations bad message, but my favorite part is that it actually featured patent abuse! When was the last time you saw what's essentially a kid's movie talk about "IP infringement"? And in a negative light, too! Awesome. Speaking of the family-friendliness, the movie was firmly PG-rated, but with the one allotted instance of "shit", just like the animated Transformers movie from the 80s. :)
My only complaint is that the plot kind of disappeared toward the end. The motivation for the final race wasn't very strong, and the montage near the end was cliched, but the sheer primary-colored craziness of the whole thing outweighed that. It's not at all a perfect movie, and not everyone will like it (only 35/100 on both Rotten Tomatoes and Metacritic), but I went in not quite knowing what to expect, and I got a really fun time with shiny bright new sights.
Update: I added a few comments in a new post.