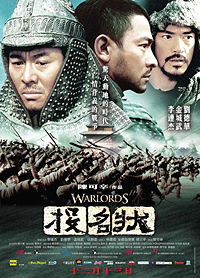 "He has no idea. He really has no idea."
"Have you heard anything I've said?"
"There are pragmatic realities he refuses to face."
"Well that's the problem, of course. He's saying what he thinks is right."
"Well yeah. He's Lee. Thing is it probably is the right thing, but... sometimes the right thing is a luxury, and it can have profoundly dangerous consequences, and it's... it's almost as if he doesn't want that to be true."
No, those are not lines from The Warlords, starring Jet Li, Andy Lau, and Takeshi Kaneshiro and directed by Peter Chan, winner of Best Picture at the 2008 Hong Kong Film Awards, and which just had its North American premier tonight as part of the San Francisco International Film Festival. They're lines from last night's episode of Battlestar Galactica. But while watching The Warlords, I kept thinking about how it's like Battlestar Galactica in 19th Century China.
The Warlords is about three blood brothers who join the Qing army to fight against the Taiping Rebellion in order to bring home food and money for their families. They are imperfect, but they each try really hard to do the right thing. Unfortunately, just as in Battlestar Galactica, doing the right thing can sometimes lead to tragic results.
Another conversation, this time between a friend of mine and I after I watched the movie:
"So how was the movie?"
"It was pretty good!"
"How was Jet Li?"
"He.... acted!"
Before the movie, someone brought up Jet Li's vow that Fearless would be his last martial arts movie. But I don't think The Warlords breaks that vow because it's really a drama in the guise of an action movie. The action scenes were gritty and efficient (if not neccessarily totally realistic). The movie instead focused its attention on the story and the characters. I much preferred that approach to fancy cinematography with a crappy script. (Zhang Yimou's martial arts movies, I'm looking at you guys!)
So, like I said, well-written drama about complex characters in complex situations, with nice action scenes as a bonus: Battlestar Galactica in 19th Century China! (Of course, BSG itself has been going downhill since mid-3rd season, and the 4th season so far has been seriously irritating me (the aforementioned dialog notwithstanding), but that's a rant for another day.)
This movie was released in China December of last year. I don't know if it's going to get wider US distribution, but I hope it does.
* * *
P.S.: One bit of bad subtitle translation: There's a scene where a number of soldiers chant before attacking a city, "Take their money, take their food, take their women!" And the subtitle read, "Take their money, take their food, take the city!" I would chalk it up to harmless bowdlerization except for the fact that the last bit becomes a significant plot point. (To be fair, when it's repeated at a point where it's more obviously a plot point, it's translated directly. So I think this was just a bit of sloppiness.)