In the same issue of Scientific American that I read about Iowa Electronic Markets, I read an article called "The End of Cosmology?" (No online version.) The basic gist is that most of the clues we've used to determine the nature of the Big Bang, inflationary theory, etc, will be gone in 100 billion years. As the Universe continues to expand, all faraway galaxies will pass beyond the sphere of observability (as determined by the speed of light).
To any intelligent being in our galaxy in 100 billion years, it will seem as though we are the only galaxy in the Universe. Those Hubble Ultra Deep Field views will cease to exist! Unless they have records of our observations, they will not be able to make the same measurements that allowed us to determine much of our cosmological knowledge.
My immediate thought upon reading this was mentioned at the end of the article:
More important, although we are certainly fortunate to live at a time when the observational pillars of the big bang are all detectable, we can easily envisage that other fundamental aspects of the universe are unobservable today. What have we already lost? Rather than being self-satisfied, we should feel humble. Perhaps someday we will find that our current careful and apparently complete understanding of the universe is seriously wanting.
I guess this is just another notch in my continuing disillusionment in science. I still think science is great and often the only game in town. But that's the scary thing: It's often the best we can do, and yet it has fundamental limits. It's scary to think that some things are just plain unknowable. I still really hope that we'll figure out the hard problem of consciousness, for instance, but this gives me one more reason to be pessimistic. Science can't find out everything. Some things just can't ever be known.
In the meantime, appreciate what we can see today: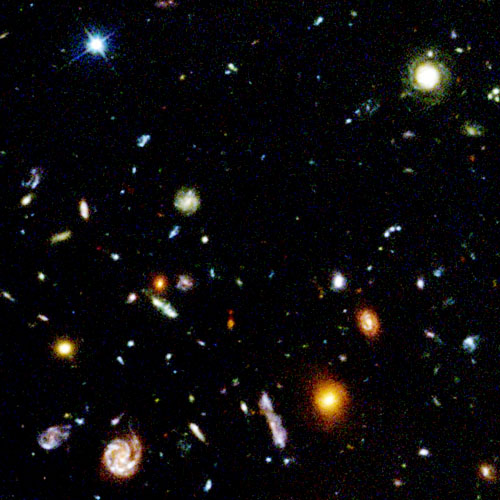 Unfortunately, after reading that article, I can't help but think about how, in 100 billion years, each of those galaxies will be in its own lonely little Universe, forever cut off from all the other galaxies, until its stars burn out and everything collapses into a black hole. Although, maybe it's less depressing if we think about the stars, and how they'll at least have other stars to keep them company as they flicker out together.