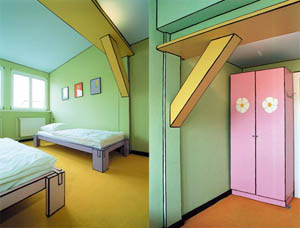 So the controller for the Wii is a Bluetooth device, which means someone's written a driver to use it with your computer. Here are some nifty Wiimote hacks.
Speaking of remotes, how about charging your personal electronic devices from across the room?
Speaking of electromagnetic radiation, here's what happens when you put various objects in a microwave.
Speaking of science experiments, it's not good to sit up straight.
Speaking of, er.... links to websites? :P Here's an amazing list of 50 Greatest Cartoons.
And speaking of cartoons, to the right is room 306, the "Comic" room, of the Arte Luise Kunsthotel in Berlin, where every room has a different artistic theme. Yes, that's a photograph of an actual room, not a drawing!