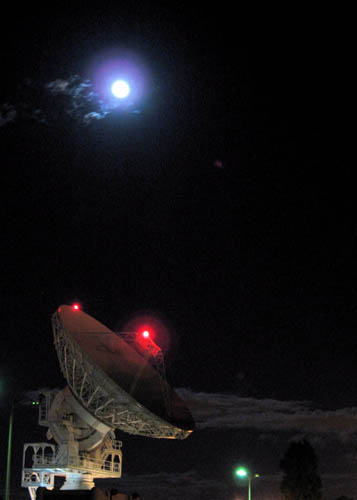 Click the above image for the flickr post (and larger version). I also took too more pictures of the telescopes here and here.
(Project 365 Day 78)
This is one of the four radio telescopes over by NASA Ames Research Center, right along Highway 237. I always thought they looked really cool. For one week, I drove by them every day to work nearby, and then I changed jobs. So sad.
Anyway, they didn't seem to actually belong to Ames, so I looked up Ames in Wikipedia, and that led me to something called WikiMapia, and I figured out who it belongs to.
Apparently, it belongs to Onizuka Air Force Station. It's soon to be decommissioned, but it has a windowless building called "the Blue Cube" that has for decades housed some of our most top secret projects. I had no idea! A bit more info in this other flickr user's description.
Hm. Come to think of it, Onizuka AFS redevelopment plans were mentioned in the Winter 2007 issue of the Sunnyvale Quarterly Report that I flickred a few days ago! The City of Sunnyvale is actively seeking community input in shaping its plans. :)