I blogged the Fountain teaser a year ago, and I finally got around to seeing it tonight.
First of all, let me say that it'd be a travesty for this movie not to win the Oscar for Best Cinematography. It's one of the best uses of the medium I've seen in a long time. It's not quite as trippy as I imagined, though. If anything, I actually felt like the movie was too focused and made too much sense. :P It could've used more tangents. But I suppose that was part of the point of it.
Anyway, I'm not sure it lives up to the hype, but it was definitely very good and very different. I guarantee there won't even be another movie this year you could reasonably compare it to, even, positively or negatively.
And now, my homage to the film's golden color theme: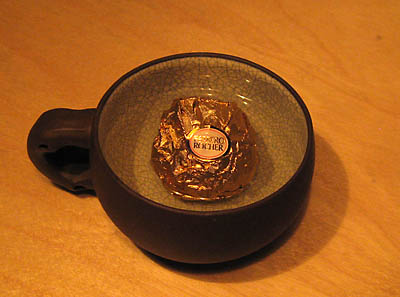 I call it The Ferrero of Youth. (This is what happens when it's 2am, and I haven't come up with any ideas for my photo of the day yet. :P)
P.S.: The color theme in the film is probably due to the connections between gold, wealth, and longevity, and Ferrero Rochers are popular gifts among Chinese people partly due to the golden foil wrapping, so it just occurred to me that this picture might make more sense than it seems at first glance. :P