My new phone takes still-crappy but at least halfway viewable pictures, so I present to you three signs.
I noticed this sign at the gas station: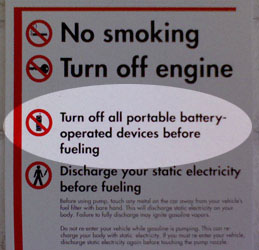 Does anyone actually follow the directions and turn off their cell phones when they're filling up? Unenforced rules are one of my pet peeves. I mean, if it's really important, then station attendants should at least yell at people who use their cell phones (assuming it's impractical to check if it's turned off in their pockets). Anyway, I mostly found it interesting because I had never heard of that rule before.
Now for a couple of amusing signs: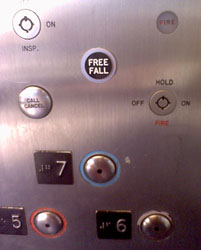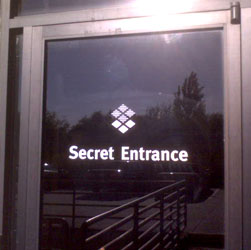 The one on the left was in the parking garage elevator at Jack London Square. I think it's glued on, but still: Hilarious! Actually, what I also found fascinating about it is that, against all rationality, I was afraid to press it. :P
The one on the right is the label for the back entrance of the building where I work. We just moved offices, and this sign suddenly appeared one day. What's particularly amusing is the shadow it casts against the inside walls in the afternoon. It reminded me of the scene in Raiders of the Lost Ark where Indy holds up the Staff of Ra at just the right time, and the sun beam hits a map to indicate the location of the Ark. Someone walked over to the wall and started patting it down, but, alas, he did not discover any hidden rooms, let alone the Ark of the Covenant. :P