Oh my God, this is the awesomest technology ever. Using the human brain as an image-recognition co-processor: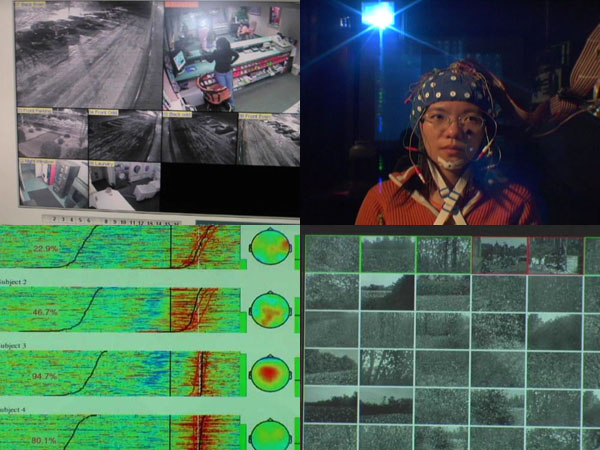 Found via /., where this comment describes the most likely use case:
Re:How is this different from security guards? (Score:5, Interesting)
by BluePariah (987431) on 2006.07.13 7:22 (#15712398)

Not only do you not have to press the button but you can look at the data ten-times as fast. Imagine this scenario: You're a Homeland Security Goon at the airport and the boys in the NSA have provided you with the face of a terrorist that may be walking around the airport. You memorize the picture of the guy, put on your nifty EEG space helmet, and tap into the face recognition system camera database at the airport. You then sift through thousands of photos in mere minutes. Human recognition works FASTER than human consciousness and therefore can identify the images before you even 'know' it. The EEG can detect the signals of your brain recognizing images and when it gets a 'hit', it dumps that image them into a cache for closer review at a later time. Think about it... banks of people in a windowless office with EEG helmets on pouring over pictures from every corner of the globe looking for whomever. Fascinating and scary at the same time...
This is what cybernetics is all about! This isn't just slapping on a PDA to your wrist. Visual recognition technology is notoriously difficult to do with computers, and yet, it's one of the things that the human brain is best at. This technology is all about accomplishing a task better than any computer and faster than any human, playing to the strengths of both sides.
Said the computer to the human, "Help ME help YOU!"
Yes, this stuff can be kinda scary, too, but I still think it's awesome. :) It's another step toward super-human intelligence.