You may have heard of Malcolm McLaren. He was the controversial manager of the Sex Pistols (who later sued him). He later had some hit songs of his own, and he's dabbled in all sorts of media, never happy to settle with success (or failure). A couple of years ago, he wrote an article in Wired about 8-bit music, which people create by hacking their GameBoys to sequence and play music entirely on their GameBoys. Even Beck's had a go at it.
You may also have heard of "machinima", movies made by manipulating video game characters like puppets. My favorite in this genre is This Spartan Life unlike most machinima, it's not a drama or a straight comedy, but rather a talk show. It's a talk show, entirely from within the game Halo 2. Another brilliant touch is that, instead of reusing the game's original orchestral music, their soundtrack is entirely composed of 8-bit music. Click under "Choose A Playlist" on the left of this page for some samples. You can probably guess what's next...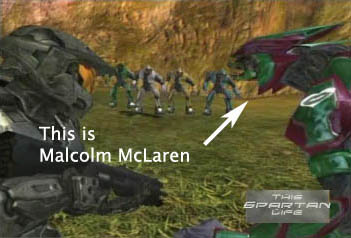 This Spartan Life has interviewed Malcolm McLaren. It's notable for being machinima that actually involves someone from outside of the gaming world. Check out the video: [QuckTime] [Windows Media] (It's part of this episode.)
The host and the guest take a leisurely walk while other players in the background and explore glitches in the game environment. The genius of it is that the action is staged to accentuate and illustrate what McLauren is talking about. As McLauren starts talking about 8-bit music and appropriation of mass media for art, a group of players perform synchronized dancing to an 8-bit soundtrack.
A Wired reporter wrote an article about this interview, and he was in fact also in the game during the interview. He even decided to talk a pot shots at the host of the show, only to be brutally taken down by the staff. How often do you see that in an interview? :D
If you liked that, be sure to also check out the interviews from the first episode.
* * *
In related news, someone decided to use RBI Baseball for the original Nintendo to recreate the 1986 World Series, Games 6, bottom of the 10th. He dubs the original sports announcer track over it. What I found most interesting about this is that baseball's probably the game where this works the best. I mean, there are long stretches where nothing much happens in baseball, and it's accentuated here because you don't even get to see cuts between shots of the pitcher, then the batter, etc.... but it works because baseball is all about suspense, anyway. :)
* * *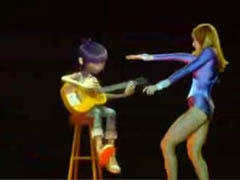 the Gorillaz, a virtual band populated by cartoon characters. They've actually had "live" concerts which are actually pre-rendered 3D graphics: "Clint Eastwood" from their first album, "Feel Good, Inc." from their second album, "Feel Good, Inc." at the Grammies, handing it off to Madonna, and finally, an actual, truly live performance by the real band, visible only as silhouettes, to avoid putting a human face on the band.
What's missing from the Gorillaz performances is the true merging of animation and live action. In the Madonna section, she's actually a virtual version of herself, on a screen, when she's interacting with them. How cool would it be if the characters could instead be puppeted in realtime, so that the band could really be playing live, but you'd see animated versions of them? Then they could actually respond to the audience and so forth, instead of just going about a set routine.
I don't think that day is far off, and I think live animated performances are gonna be big. Some of it will have puppeted characters, and some of it will have real people in virtual environments. I want live stage plays with the limitless environments that digital sets can provide. We already have that to a small degree with some weather reports and that first-down line in football broadcasts. But that's reality augmented with graphics. I want graphics augmented with reality!
Or actually, I want both! And more! Okay, I'm getting a little too excited. :D
:D :D