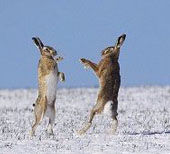 During the hare's mating season, they have often been seen "boxing". People used to think that this was competition between males, but it turns out that it's usually a fight between females and males. When a male gets too close, an unreceptive female will bat him away with her claws. According to an article on the arctic hare, the male usually backs down quickly. But when he doesn't, they'll continue "boxing" and even biting. "Tactics include scratching with fore-claws, biting at the fur, neck and body, and grabbing the opponent's limb with their teeth. Injuries may result: hares with facial scars are not uncommon."
* * *
In completely unrelated news, the first pencils were made in the early 1500s from an enormous deposit of very pure solid graphite that was discovered at a place called "Seathwaite Fell" in England. It remains the only graphite deposit ever found with such purity. Normally, graphite had to be ground down into a powder to remove impurities.
Thus, England had a monopoly on pencils. During the Napoleonic Wars, the French couldn't get their hands on that English graphite any more, and so it wasn't until 1795 that Nicholas Jacques Conté discovered how to mix powdered graphite with clay and then fire it in a kiln to make the modern pencil.
Crazy. From the Wikipedia pencil entry.
(Also, that joke about NASA spending millions on a space pen while the Russians used pencils is not true.)