I took a solo Northern California road trip this week. Pictures!
Like any good All-American road trip, mine started with an All-American road-side diner! The food kinda sucked, though. It was cold.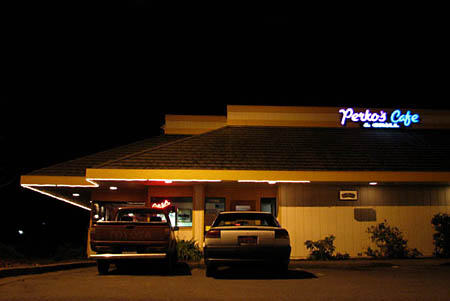 This is where that diner was: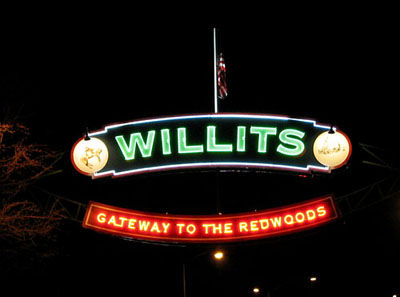 I stayed at an ocean-side hotel for a couple of nights in Fort Bragg, CA. I like how Google Maps satellite view only has half the town in hi-res. Guess what this next picture is; I'm pretty proud of it: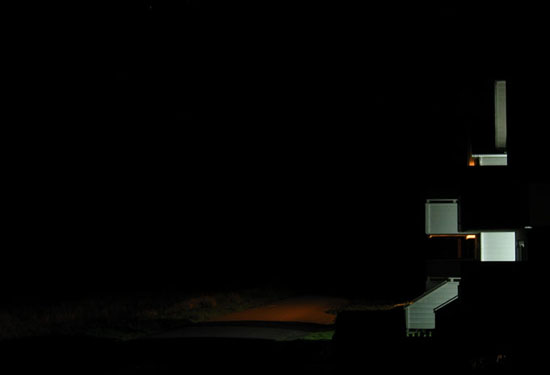 It's the building next door! That's a 15-second exposure I took with my mini-tripod. :)
The view from my back porch in the morning: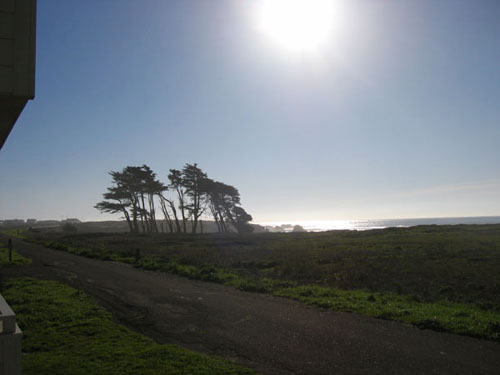 Reverse angle shot from the Glass Beach:
Okay, so you can't actually see the hotel, but at least it's a reverse angle shot of that group of trees!
This store reminds me of those "Chinese Food and Donuts" joints, except even more peculiar: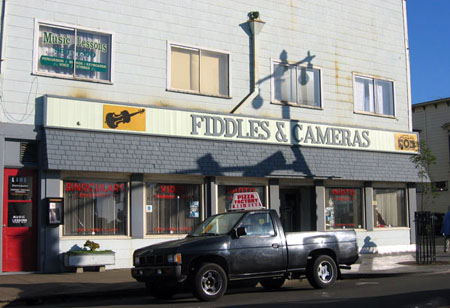 (It's not a joke! They really do sell both music and photography equipment!)
The highlight of my trip speaks for itself: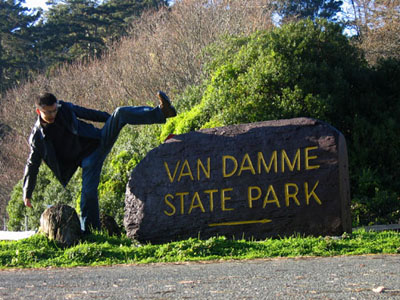 It reminded me of this picture I took of Arnold Schwarzenegger Stadium in Graz, Austria, though that's not named after him any more! And yes, the State Park is actually named after a different Van Damme. :P It still makes me want to go find places named after Stallone and Seagal, though. And then I can go on a real scavenger hunt and look for a landmark named after Lundgren!
I wanted to check out the the Pygmy Forest, but it was closed because the bridge was damaged by a storm. :(
This is a cool bridge, and I like how you can see the river peeking through the trees here: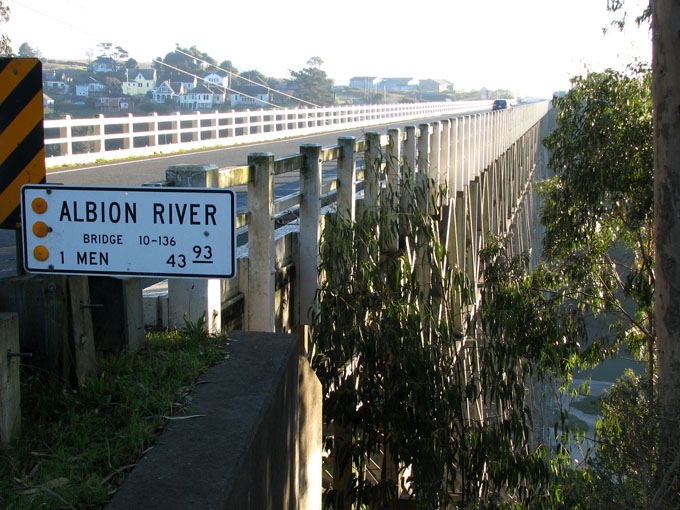 It's a tiny town where people looked at me funny when I drove in, so I drove right back out, but I think it's quite photogenic from afar. :P
Sunset panorama in Mendocino:

Closeup: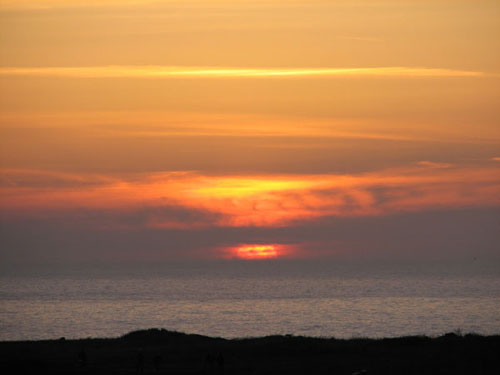 I got back to Fort Bragg, went down a side road, and found the littlest Sears you ever saw: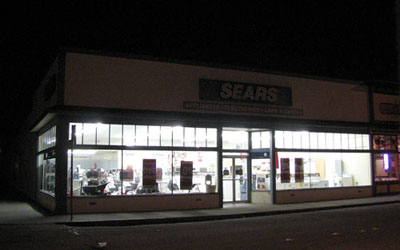 Had some decent dinner at Mendo Bistro, where they had this odd ginger ale:
(I was also amused that my fish came with baby bok choy. I guess it's a theme!)
I love the way this building looks. I love the logo font, and the texture reminds me of suede: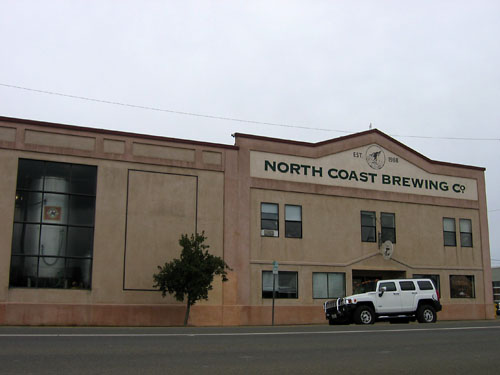 They have a restaurant across the street, where I had the best fish sandwich ever. Locally caught fresh fish makes a big difference! I didn't drink their beer, but I did try their "Mendocino Mustard" that's made with their beer, so I guess that counts! :) (It was good and interestingly textured mustard, too.)
The next day, I drove up through the Avenue of the Giants in Humboldt State Park, where you wind through a redwood forest. It was very pretty, but I don't have any good pictures from it. :P
It rained the whole way back down to Santa Rosa. This picture I took along 101 is kinda spooky and pretty at the same time: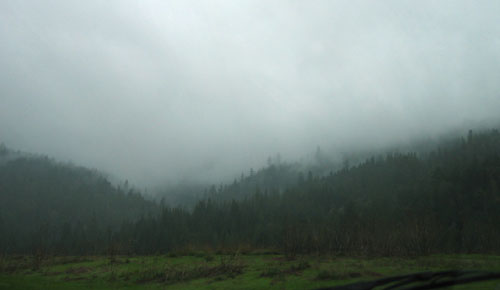 I love how all the roadside attractions proclaim themselves as "World Famous". :) This is supposed to be the house with the tallest ceiling or something like that. It was closed, though, but I took this vertical panorama: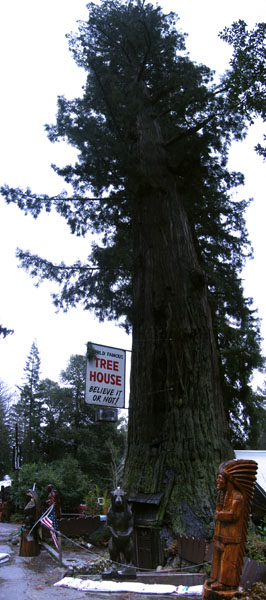 Next to my motel in Santa Rosa was a very nice steakhouse. (The $25 prime rib was great stuff!) I also liked the juxtaposition of the classic Bates Motel look of the building and the modern sans serif font on the sign: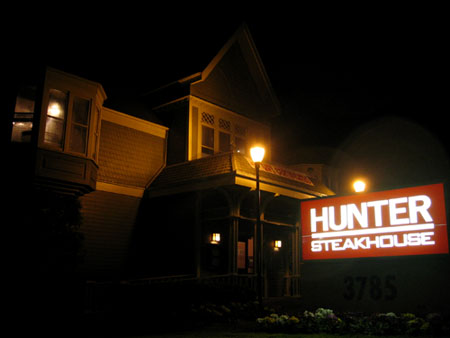 Good Ol' Charlie Brown! The pattern on his forehead is a drawing of the Charles M. Schulz Museum, which is where this was: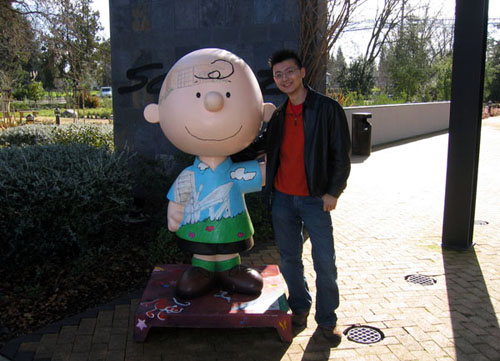 In the courtyard was this odd sculpture: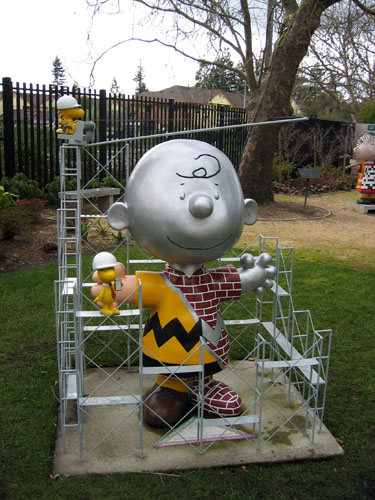 My favorite part was Woodstock's clipboard: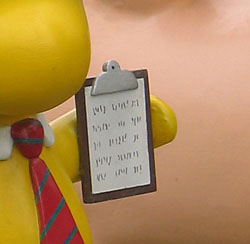 :)
Finally, I checked out the Pacific Coast Air Museum, where I saw lots of nifty planes, and also this other kind of flyer: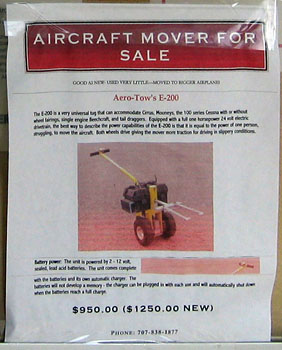 I like the part that reads: "Equipped with a full one horsepower 24 volt electric drivetrain, the best way to describe the power capabilities of the E-200 is that it is equal to the power of one person, struggling, to move the aircraft." :)