My dad's friend gave me a couple of original animation cells from Journey to the West cartoons of the 80s! The guy knew the director of the Shanghai Animation Studio, who brought a bunch of cells to an awards show in Brazil and gave him a couple on the way. They've just been sitting in storage some 20-odd years until my dad mentioned to his friend that I liked the Monkey King. :)
For those who don't know, Journey to the West is one of the classic Chinese novels. You could think of it as the Chinese The Odyssey, maybe. The main character is Sun Wu Kong, a trickster monkey deity, born from a rock, who rules a monkey kingdom on Flower Fruit Mountain. You may have heard of him as "The Monkey King". He learns martial arts and magical powers and becomes extremely arrogant. Eventually he crashes a party in Heaven itself and causes a ruckus. The Jade Emperor sends warrior after Heavenly warrior after him, but he defeats all of them.
Finally, the Buddha Himself captures the Monkey King and imprisons him under a mountain. Fiven hundred years later, he's finally freed with a chance to redeem himself by helping a monk, Tang Seng, journey westward to retrieve Buddhist sutras from India. They're joined by two others seeking a second chance, Friar Sand and Zhu Ba Jie (a lazy, greedy, womanizing pig creature whose family name Zhu is literally "Pig"). That's them here: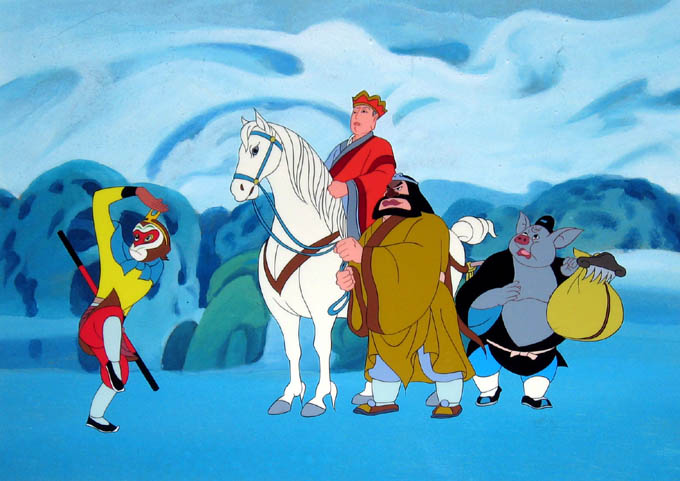 That's actually a background plate with the characters painted on a clear plastic plate above!
The rest of the story is basically an episodic road trip. Rumor goes that eating Tang Seng's flesh would grant you everlasting life, so of course all sorts of demons come out of the woodwork.
Anyway, kids like me loved the various animated portrayals of the Monkey King. In a way, I think of him as my favorite part of Chinese culture. I looked all over the place for a poster of him, to no avail. These days, most portrayals are anime-style or whatnot, which just doesn't resonate with me.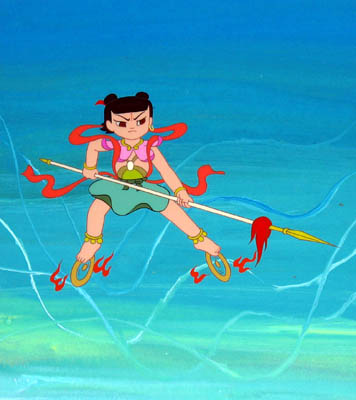 My dad's friend also gave me this cell of Ne Zha, a hot-tempered child deity who flies around on flaming wheels. He was in some ways the Monkey King's arch nemesis, because they're both mischievous. Similar personalities tend to clash, I guess. :)
I can't wait to get these things framed and onto my walls. I looked all over Shanghai and couldn't find anything like this, and I was just looking for mass-produced posters, not original animation cells!