So the more I think about Episode 3, the more issues I have with it. First the good: Palpatine is as cool as people say and Ewan McGregor is great as Obi-Wan. I think that's as much a function of the script as it is of the acting, though: I think Obi-Wan and Palpatine are well-written characters. Obi-Wan is focused but with a subtle sense of humor, just as you'd expect a young Obi-Wan to be. I like how he's beardless in Episode 1, and he looks more like Alec Guiness in 2 and 3. See, there's a transition...
Not so with Anakin! He's whiny... he's whiny... he's whiny... BOOM! He's pure evil.... but still whiny! Even after he turns into James Earl Jones, he says, "Is Padme alright?" or something like that. "Alright" is just so not Darth Vadery, you know? I think it would've worked much better if Anakin became more and more Vadery before getting his suit, rather than stay Anakiny after. I don't really blame Hayden Christensen for that like most people, though; I blame the writing.
I also had problems with the action. (This is a complaint that applies to all the prequels.) See, the original trilogy's large scale action scenes each felt well-defined, somehow. The Battle of Hoth, the asteroid belt chase, speeder bikes through a forest, the trench run: They all felt kind of "high concept". It's no coincidence that most people considered Episode 1's pod race the best part of that movie.
The space battles in all three prequels have been really lackluster, with the Trade Federation war in Episode 1 being perhaps the worst. People made a big deal of Sith's opening space battle, but it was really just background for Anakin and Obi-Wan fighting off random uninteresting robots who look like they're just getting in their screen time so they can be toys. Nothing in the prequels has the character of an AT-AT walker, let alone the Falcon. Even the proto-Star Destroyers just look like, well, proto-Star Destroyers.
But back to high-concept set pieces: The battle on the Wookie planet of Kashyyyk just had no resonance at all with me, and that planet that Obi-Wan fights Grevious on? I mean, was there any interesting characteristic about that planet at all? The only effective set piece was the final battle on Mustafar, but even that had its issues. I mean, when Anakin was hopping from rock to rock on the lava, and then he surfs the lava on that cute little robot, this was all I could think about: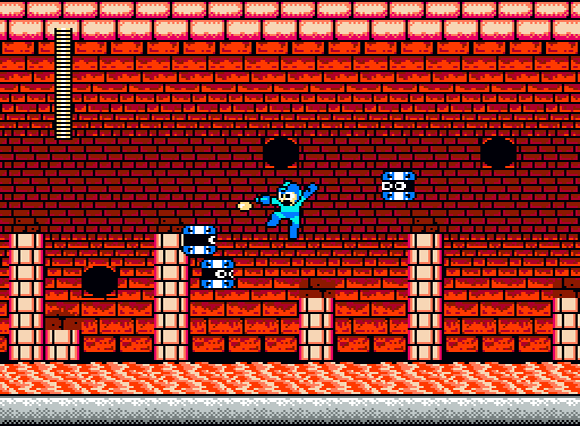 :-)
P.S.: I saw Episode 2 only once, when it came out, and I can barely even remember any of the locations. Not a good sign!