So I was a big fan of the science fiction TV series Babylon 5. It was created by and for fans of written science fiction, and it didn't shy from social and political criticism.
One continuing plot involved the rise of authoritarianism in "EarthGov". Securitiy guards as well as ordinary citizens were recruited by an organization called "Nightwatch". In order to ensure the "security" of humanity, Nightwatch encouraged its members to report any suspicious activities of their fellow citizens. They'd put up posters saying things like "TRAITORS CAN'T HIDE". And so forth.
I watched this stuff back in the mid-90s... I remember thinking, "It never hurts to repeat these warnings against totalitarianism... After all, my parents went through a lot of these types of things. But still.. This seems a bit heavy-handed and unnecessary in our modern democracy. I can't really imagine this sort of thing happening again any time soon. After all, we've learned our lesson from McCarthyism and all that."
Ha!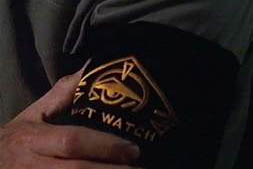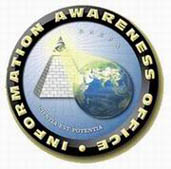 The image on the left is the armband that Nightwatch members wore on Babylon 5. The image on the right is the quickly-pulled logo for the newly created Information Awareness Office in real life.
They used to call their program "Total Information Awareness", but they've since renamed it "Terrorist Information Awareness". I feel sooo much better now. Thank God Congress had the sense to put the smackdown on their proposed TIPS program for recruiting citizens to report on each other, but the USA PATRIOT Act is still mostly intact...
I no longer have the faith I once had in our system. Yes, this country has grown. Yes, we are aware of the lessons of history. But I no longer think Nightwatch is an impossibility. And that scares me.