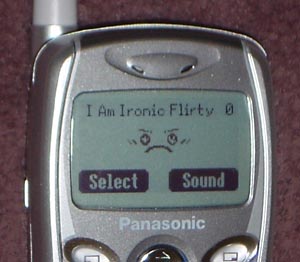 My family just got new cell phones. My mom's phone has a list of pictures you can send along with your text messages. They're mostly various faces with an appropriate label, like "I am sad". Some of the descriptions and faces match better than others. My favorite, though, is the one to your right.
Gotta love it.
Her phone was free, and it's ridiculously small. The catch, though, is that it has a pretty crummy UI, and it's imported from Taiwan. You see, her phone doesn't support voice mail, and I can only guess that this is because they don't have voice mail in Taiwan. But guess what? In kluging together a solution, I got to find out how voice mail notifications really work!
On a typical phone, when someone leaves a message, you get a little voice mail icon. You hit the voice mail button, and it dials up a number to access your voice mail. When you listen to or delete all your messages, the voice mail icon goes away.
When someone leaves a voice mail on my mom's account, she instead gets a text message with the contents: "_@". Pretty wacky, but I guess that's the way voice mail really works? So she has to delete that message and then call up her voice mail manually. (I put the number in her phone book.) Once she clears her messages, she gets another SMS with the contents: "Δ@". I guess that's the message that tells her phone to clear the notification. :) (Maybe the actual messages are longer and getting truncated somehow, but it's still pretty neat.)
Fun stuff.