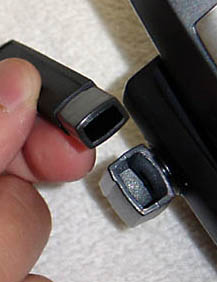 My parents bought a Southwestern Bell cordless phone for really cheap. Only $7 after rebates! The quality really sucked, though. It was really really staticky even if you used it right next to the base. They expected it to suck, but not quite that much, so we're going to go return it.
In any case, here's the real kicker: I accidentally broke off the antenna on the base... or so I thought. It turns out it's not an antenna at all!
The "antenna" is just a piece of plastic!
And I'm pretty sure nothing's missing inside, too. It's just a little plastic thing that slides into a socket, completely for show. Sheesh.
You get what you pay for, and I guess we paid for a fake antenna.