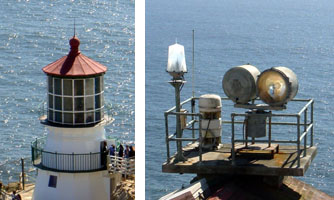 On the left is the lighthouse at Point Reyes that was used until 1975. Built in 1870, it was equipped with a state-of-the-art Fresnel Lens. But it's still in this cute little house and stuff, you know? On the right is its replacement, a pair of 1000-watt lightbulbs on an automatically rotating platform.
I mean, sure, life sucked for the lighthouse keeper who had to watch over the old light through fog and storm without human contact, but did they have to make the new lens so.... Utilitarian and ugly? :P
It reminds me of when I was in Florence, and I visited the "History of Science Museum". They had actual Galileo contraptions, Kepler's old telescope, things like that. And they were so beautiful, with intricate wood carvings and all that.